JinkoSolar, one of the largest and most innovative PV module manufacturers in the world, today announced that it has signed a distribution agreement with Must, one of the biggest distributors of photovoltaic modules, inverters, batteries and energy storage system in African distribution market. According to the agreement, JinkoSolar will supply over 100MWh of its ESS products to Must, including lithium iron phosphate battery system units for residential use and LFP container storage system for C&I power demand.
JinkoSolar's energy storage system features higher energy density while maintaining long life span and strong safety. It uses a lithium iron phosphate (LFP) as its anode materials with the additional advantage of no memory effect so the battery can be charged and discharged shallowly and frequently, which can effectively improve the efficiency of the system. On top of that, it also possesses protection functions like over-charge, over-discharge, over-current and abnormal temperature, which guarantees reliability & safety over the lifespan.
Flexible design configuration is another key feature of JInkoSolar's ESS to meet the requirements in different application scenarios in Africa. In areas with high operating temperatures and limited installation space, users can connect the battery units parallel to form a larger capacity battery pack to meet their requirements of long power backup time and long service life. In relatively developed areas of Africa, the system supports on- and off-grid switching function, which allows it to be integrated into the grid to maximize IRR and lower LCOE.
"The agreement signed between JinkoSolar and Must indicates a significant relationship between two companies. As there is a booming ESS market in Africa, we're certain that, together with JinkoSolar, we'll be able to deliver desirable yet affordable ESS products & solutions in local market and develop a stronger local distribution network that meet our local demands," said Mike Guo, Head of Must.
"Clear as day, electricity demand is expected to double to over 2300 TWh in Africa by the end of 2040, with most of the additional demand stemming from productive uses and emerging middle- and higher-income households. And renewables will be the powerhouse that drives Africa's brighter future. Our company is so proud to be part of African energy transformation and our PV+ ESS solutions can be applied in utility-scale projects connected to the grid, C&I power demand, or residential off-grid power demand," said Jaffer Wang, GM of SSA, JinkoSolar.
As one of the world's Tier1 solar manufacturers, JinkoSolar has strong commitment to offering a wide range of PV+ solutions, in which its Energy Storage System will achieve better electricity management for customers in Africa and elsewhere.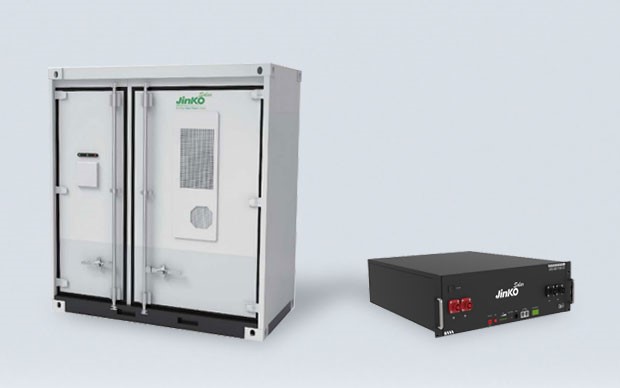 Legal Statement
About JinkoSolar Holding Co., Ltd.
JinkoSolar (NYSE: JKS) is one of the largest and most innovative solar module manufacturers in the world. JinkoSolar distributes its solar products and sells its solutions and services to a diversified international utility, commercial and residential customer base in China, the United States, Japan, Germany, the United Kingdom, Chile, South Africa, India, Mexico, Brazil, the United Arab Emirates, Italy, Spain, France, Belgium, Netherlands, Poland, Austria, Switzerland,
Greece and other countries and regions.
JinkoSolar has built a vertically integrated solar product value chain, with an integrated annual capacity of 40.0 GW for mono wafers, 40.0 GW for solar cells, and 50.0 GW for solar modules, as of March 31, 2022.
JinkoSolar has 12 productions facilities globally, 21 overseas subsidiaries in Japan, South Korea, Vietnam, India, Turkey, Germany, Italy, Switzerland, the United States, Mexico, Brazil, Chile, Australia, Canada, Malaysia, UAE, and Denmark, and global sales teams in
mainland
China, the United States, Canada, Germany, Switzerland, Italy, Japan, Australia, Korea, India, Turkey, Chile, Brazil, Mexico and Hong Kong, as of March 31, 2022.
Safe Harbor Statement
This press release contains forward-looking statements. These statements constitute "forward-looking" statements within the meaning of Section 27A of the Securities Act of 1933, as amended, and Section 21E of the Securities Exchange Act of 1934, as amended, and as defined in the U.S. Private Securities Litigation Reform Act of 1995. These forward-looking statements can be identified by terminology such as "will," "expects," "anticipates," "future," "intends," "plans," "believes," "estimates" and similar statements. Among other things, the quotations from management in this press release and the Company's operations and business outlook, contain forward-looking statements. Such statements involve certain risks and uncertainties that could cause actual results to differ materially from those in the forward-looking statements. Further information regarding these and other risks is included in JinkoSolar's filings with the U.S. Securities and Exchange Commission, including its annual report on Form 20-F. Except as required by law, the Company does not undertake any obligation to update any forward-looking statements, whether as a result of new information, future events or otherwise.
For investor and media inquiries, please contact:
JinkoSolar Holding Co., Ltd.
Tel: +86 21-5180-8777 ext.7806