Background Introduction:
In the 100 MW PV power plant (Phase II of the Project) developed by the State Power Investment Corporation (SPIC) in North West China, we conducted a comparative study on the power generation performance of PV modules with two different cell technologies, TOPCon and PERC. The location of the project belongs to the moderately warm temperate and extremely arid desert climate with hot summers and cold winters. The region is rich in heat and has significant temperature differences annually and daily speaking. The annual average irradiance is about 5800.01MJ/m2, which is considered abundant in solar energy resources and favorable for the development and construction of solar grid-connected power stations.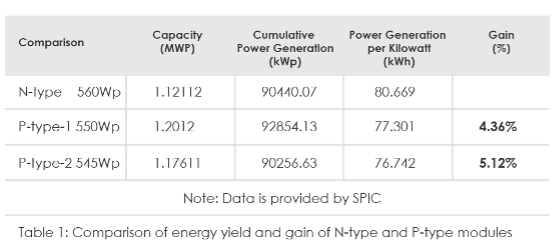 Technical Specification:
The rated capacity of the power station is 100 MW, consisting of 32 power matrices, with a DC/AC ratio of 1.3. Bifacial modules are selected for the system design and based on the system voltage of 1500V, 26 modules are designed as a string connecting to a 225kW inverter through 20-21 strings. Fixed tilts are selected with an inclination of 36°, and the minimum height of the modules from the ground is about 0.5 meters. The overall project covers an area of approximately 2110 m2.
The performance comparison section of the project includes N-type and P-type modules. During the power generation simulation through PVsyst, the N-type TOPCon PAN files uses Jinko's Tiger Neo 560Wp module, meanwhile, the PAN files of PERC are based on a general industry-wide performance level 550Wp and 545Wp.
Result:
Compared to the conventional P-type PERC modules, the Tiger Neo series N-type modules which are equipped with advanced TOPCon cell technology independently developed by Jinko Solar have relative advantages such as low degradation, low-temperature coefficient, high bifacial factor and excellent low irradiance performance. During the simulation, the mentioned N-type module can bring at least 3% extra power gain under the same installation capacity. The climate area where this project is located is hot in summer, with extremely high temperatures up to 41℃. With good solar irradiance, the operating temperature of the module during the summertime will significantly increase and affect the power output. The N-type TOPCon module has a lower temperature coefficient, which has decreased from 0.35% of the P-type to 0.29%, which means that it is less affected under high ambient temperatures and exhibits better power generation performance. At the same time, the project is constructed in the desert area with good ground reflection conditions, and the snow in winter can further improve the reflectivity. The higher bifacial factor of TOPCon modules (up to 85%) can bring more backside power gain under the same operating conditions and increase the total power generation. Based on the actual power generation data of N-type and P-type modules in this power plant, it was found that compared to the two P-type arrays in the project, the average per kW extra power gain of Jinko's Tiger Neo modules have reached 4.36% and 5.12% respectively, far exceeding the 3% level during the simulation
Conclusion:
N-type TOPCon has a lower temperature coefficient and a higher bifacial factor. These competitive advantages have been better highlighted in hot areas and regions with excellent ground reflection conditions such as the desert. Additionally, higher efficiency of the N-type modules can significantly reduce the system costs in regions with high BOS (such as Europe, Australia, the Middle East, and Africa), endowing N-type the TOPCon product with greater premium extra value. In summary, even considering the price difference between N/P type modules, TOPCon module will have the highest priority in most climatic regions based on its higher efficiency and outstanding power generation performance.

Legal Statement
About JinkoSolar Holding Co., Ltd.
Jinko Solar Co., Ltd. (the "Company", or "Jinko Solar") (SSE: 688223) is one of the most famous and innovative solar technology companies in the world. Its business covers the core links of the photovoltaic industry chain, focusing on the R&D of integrated photovoltaic products and integrated clean energy solutions. At present, Jinko Solar's products serve more than 3,000 customers in more than 160 countries and regions around the world, and the company has ranked No.1 in global module shipments from 2016 to 2019. By the end of Q1,2023, the cumulative module shipments of Jinko Solar have exceeded 150GW. Jinko Solar is an industry opinion leader under various international frameworks such as B20, and it is also one of the first solar energy companies to join the RE100 green initiative.
Jinko Solar is the first company to establish a "vertically integrated" production capacity from silicon material processing to wafer, cell and module production in the industry. It has a total of 14 global production bases in China, the United States, Malaysia and Vietnam. JinkoSolar expects its annual production capacity for mono wafer, solar cell and solar module to reach 75.0 GW, 75.0 GW and 90.0 GW, respectively, by the end of 2023. Jinko Solar has more than 1,000 R&D and technical employees and has won many honors such as "National Enterprise Technology Center", "National Technology Innovation Demonstration Enterprise", "Champion of Manufacturing ", and has formulated many international and domestic industry standards such as IEC. Jinko Solar continuously expands the diversified application scenarios of photovoltaic technology, including building-integrated photovoltaic, photovoltaic hydrogen production, energy storage and other fields, and strives to create a new energy ecosystem.

Jinko Solar was listed on the STAR Board of the Shanghai Stock Exchange in 2022, and JinkoSolar Holding Co., Ltd., its indirect controlling shareholder, was listed on the New York Stock Exchange in 2010.
Safe Harbor Statement
This press release contains forward-looking statements. These statements constitute "forward-looking" statements within the meaning of Section 27A of the Securities Act of 1933, as amended, and Section 21E of the Securities Exchange Act of 1934, as amended, and as defined in the U.S. Private Securities Litigation Reform Act of 1995. These forward-looking statements can be identified by terminology such as "will," "expects," "anticipates," "future," "intends," "plans," "believes," "estimates" and similar statements. Among other things, the quotations from management in this press release and the Company's operations and business outlook, contain forward-looking statements. Such statements involve certain risks and uncertainties that could cause actual results to differ materially from those in the forward-looking statements. Further information regarding these and other risks is included in JinkoSolar's filings with the U.S. Securities and Exchange Commission, including its annual report on Form 20-F. Except as required by law, the Company does not undertake any obligation to update any forward-looking statements, whether as a result of new information, future events or otherwise.
For investor and media inquiries, please contact:
JinkoSolar Holding Co., Ltd.
Tel: +86 21-5180-8777 ext.7806